This weeks bullshit
What the hell is happening to this world !!!!
---
A Colorado man accused of killing his pregnant wife and two children is expected to be charged on Monday. Friends and family gathered at a vigil outside the family's home.
---
Italy rescuers search for survivors after motorway collapse kills dozens
Helicopter footage on social media showed trucks and cars stranded on either side of the 80-meter long collapsed section of the Morandi Bridge near Genoa.
At least 35 probably died, Italy's ANSA news agency said citing fire brigade sources, while the official body count remained at about 20.
A 50-meter high section of the bridge, including a tower that anchored several supports, crashed down with as many as 35 vehicles driving on it.
Rescuers at work amid the rubble after a highway bridge collapsed in Genoa, Italy, 14 August 2018. A large section of the Morandi viaduct upon which the A10 motorway runs collapsed in Genoa on Tuesday.
Italy rescuers search for survivors after motorway collapse kills dozens
---
Major earthquakes strike near Fiji and in Indonesia's Lombok island
Earthquakes struck near two popular vacation destinations Sunday, one rattling the South Pacific islands of Fiji and Tonga, and another striking Indonesia's Lombok.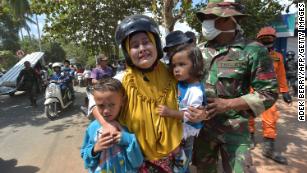 Lombok earthquake death toll surges above 400
The quake roughly 200 miles off both Fiji and Tonga measured a massive 8.2-magnitude but was hundreds of miles deep.
---
Report: More than 300 priests sexually abused kids
A new grand jury report says that internal documents from six Catholic dioceses in Pennsylvania show that more than 300 "predator priests" have been credibly accused of sexually abusing more than 1,000 child victims.
New report details horrific abuse by priests
---
Police car hits 16-year-old fleeing from bicycle violation
A teenager who was stopped by Sacramento police for not having a light on his bicycle ended up being hit by a cop car going 27 mph in dramatic video released by the department Friday.
Sacramento police vehicle crashes into 16-year-old fleeing from bicycle violation
---
Nashville police are warning local residents to be on guard as the search for two suspected killers intensifies.  Other shootings in the same area of East Nashville over the past week have shaken the community. Officials are trying to determine if the crimes are connected.
"These are two just senseless, cold-blooded homicides," said Don Aaron, public affairs manager of the Metropolitan Police Department of Nashville & Davidson County.
The latest in a string of random and possibly-connected shootings led Nashville police to make an unsettling warning to residents: Stay in groups, and be careful.
---
Sheriff defends the actions of a deputy who fired at a car driven by a 12-year-old girl in a high-speed police chase in Mississippi.
---
16-year-old Jordan Holgerson asked that 18-year-old Taylor Smith be put in jail for pushing her off the bridge, causing her to plunge 60 feet into the water below.
---
Newly released dashcam footage shows Florida Deputy Bill Dunn rushing to save a 3-year-old girl who was left inside a hot car overnight.